Fabiola Dimas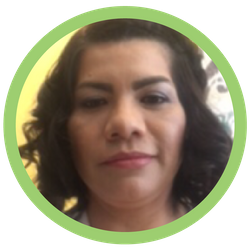 Fabiola was born and raised in Aguascalientes, Mexico, and moved to the United States with her husband in 2000. She graduated from Doane University in 2015, where she had a plethora of Early Childhood training. Previously, Fabiola worked 19 years for Crete Public School's Migrant and Sixpence Programs.
She is a Bilingual Circle of Security Facilitator, FAN mentor, Infant Massage Instructor, and Breastfeeding Counselor. She is involved in multiple community projects working with the Appleseed Program as a voting advocate, a Board member with Crete Public Library, and a part of Nebraska's Early Childhood Workforce Commission.
Over the years, she has had the opportunity to work closely with at-risk families and children, strengthening advocacy, and creating strong community partnerships. She is passionate about early childhood education and believes that all children in Nebraska should have the same opportunities to achieve their full potential for equitable and inclusive education.