Nebraska Children and Families Foundation supports children, young adults and families at risk with the overall goal of giving our state's most vulnerable kids what they need to reach their full potential. We do this by building strong communities that support families so their children can grow up to be thriving, productive adults.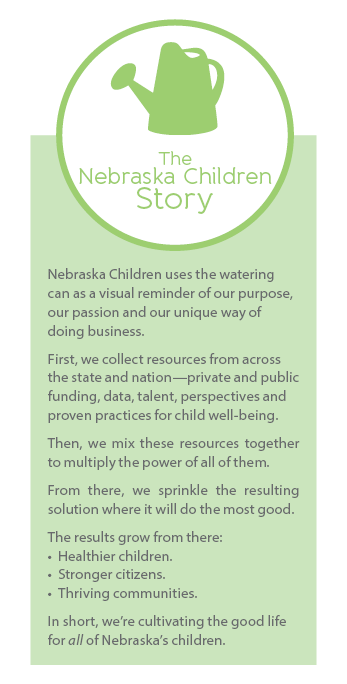 Mission
Create positive change for Nebraska's children through community engagement.
Vision
A Nebraska where all children will have the resources and support to reach their full potential.
Values
Prevention
We believe in investing early before problems start.
Opportunity
We believe every child deserves the chance to reach their full potential, so we focus on providing opportunities to children who have the least.
Collaboration
We believe it takes all of us to create a Nebraska where all children can reach their full potential. That's why we leverage funds from both public and private sectors, pool talent from all around the communities we work with, and structure initiatives around a team effort designed to maximize effectiveness of limited resources.
Goal
We empower families to be:
Healthy
Safe
Enjoying life
Achieving milestones
Contributing positively to their communities
Economically stable