Nebraska Children and Families Foundation supports children, young adults, and families at risk with the overall goal of giving our state's most vulnerable kids what they need to thrive. We do this by building strong communities that support families so their children can grow up to be successful, productive adults.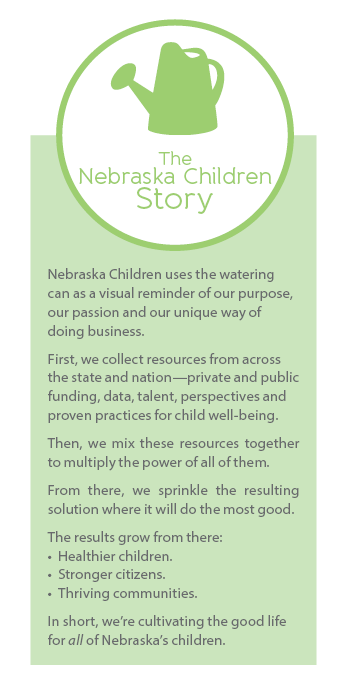 Mission
Create positive change for Nebraska's children through community engagement.
Vision
A Nebraska where all children will have the resources and support to thrive.
Values in Action
Prevention
We emphasize proactive choices over reactive ones, to anticipate and seize opportunities and avoid problems.
We model best practices and promote them in our community partners.
We are nimble in operation, innovative in mindset, and fearless in trying fresh approaches.
Opportunity
We work for all but will prioritize those children, families, and communities that are the most disadvantaged or discriminated against.
We level the playing field, speaking up for and supporting those whose voices are not heard or are silenced.
Collaboration
We are objective but not neutral.
We prioritize collective action over individual action, because we are better together.
We celebrate the success of others and recognize the contributions of others to our success.
Facts and Feelings
We base decisions and behaviors in sound practice that is founded in the best evidence.
We build on evidence-based practices with a willingness to explore and test innovative approaches.
We balance fidelity to evidence-based processes with the flexibility required to meet people and communities "where they are."
We connect discrete data, policies, and practices so we and our stakeholders can see the big picture.
Goal
We empower families to be:
Healthy
Safe
Enjoying life
Achieving milestones
Contributing positively to their communities
Economically stable