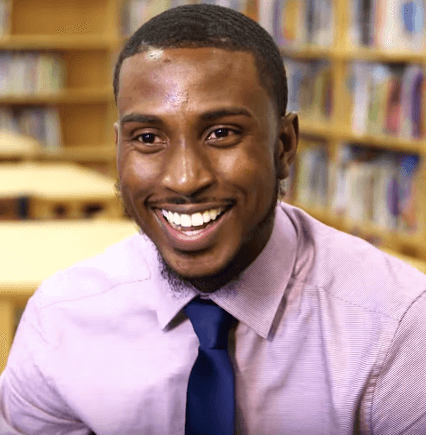 Changemakers 2019 | Tuesday, October 29
Embassy Suites La Vista
Patron Reception 10:00 - 11:00 a.m. | Luncheon 11:30 a.m.-1:00 p.m.
Changemakers is our annual celebration of the people who improve the lives of children in Nebraska and across the country. Each year, we'll bring in an inspirational speaker to discuss an issue related to child well-being. We'll also present our Grace Abbott Award and provide an update on the work that's happening across the state.This year's keynote speaker will be Michael Bonner - teacher and author.
"I wish I could go back to second grade, so Mr. Bonner could be my teacher," were the words Ellen Degeneres released on her social media accounts to 50+ million followers. This is when she learned of how Mr. Bonner's mind capturing teaching methods encouraged students to go above and beyond on a reading test. 
Mr. Bonner is an inspiring teacher at North Carolina's South Greenville Elementary, where the majority of students have strenuous familial dynamics and some are homeless. The school is 100% FRL (free and reduced lunch) and is located in a marginalized neighborhood in Eastern North Carolina.
In early 2017, Bonner was honored by Ellen DeGeneres in recognition of his positive and innovative educational approaches for children coping adverse childhood experiences. Ellen presented Bonner and his school with technical equipment to assist in the creation of music videos serving as aids to education. Additionally, Wal-Mart presented the school with $25,000, and the Ellen Show created a Go Fund Me site for South Greenville, which has raised over $88,000 for the Title I school. However, the amazing journey did not stop there! One month after he first appeared on her show, Ellen flew Mr. Bonner and his entire second-grade class to visit with her again at her studio. Twenty children from Mr. Bonner's class received an all-expense paid trip to Los Angeles, California. The students recorded in a professional studio had class on a Hollywood set, and made a professional music video with Ellen, Big Sean, Ice Cube, Migos, Ty Dolla Sign, and Lin Manuel Miranda! Mr.Bonner's class was then awarded another $20,000 from Wal-Mart to assist in creating a more prosperous learning environment.
His efforts to change the learning culture have also captured attention from other national news outlets. NBC Nightly News with Lester Holt, Flocabulary, the Ashton Kutcher Foundation, and Remind all released stories on how Mr. Bonner is utilizing innovative strategies to help counter the negative stereotype within education. Since June 2017, Michael has conducted almost 100 keynotes and breakout sessions to educators all across the world.
With only six years in K-12 education, Mr. Bonner is consistently seen as a visionary leader who strives to create a positive mindset among all of his students. He understands that his students come to class each day with diverse backgrounds, strengths, needs, and challenges, and seeks to identify strategies to ensure the growth of their social, emotional, academic, and psychological needs. Because of his approach to education, students leave feeling a little more hopeful, challenged, inspired, and forever a part of Bonnerville!
$75 for general ticket
$100 for general ticket + Patron Reception ticket
$750/table (10 to table)
$1000/table (10 to table) + Patron Reception tickets
$25 for ticket to Patron Reception only
---