SANKOFA
The SANKOFA Youth Violence Prevention Program is a strengths-based, prevention intervention designed for African American youth ages 13-19 (though it has also been used with Latino and White youth). The goal of the school-based intervention is to equip youth with the knowledge, attitudes, skills, confidence, and motivation to minimize their risk for involvement in violence, victimization as a result of violence, and other negative behaviors, such as alcohol and other drug use. The intervention promotes resilience and survival in difficult and even life-threatening situations.
The intervention includes an adolescent curriculum and an optional parent curriculum. The adolescent curriculum (24 modules and 3 booster modules) addresses:
Goals and values
Reasons for fighting and carrying and using weapons
Stereotypes, beliefs, and attitudes that render one at risk for violence-related injury and death
Responsibility to self, family, and community
Stages of conflict escalation
Strengthening of internal locus of control
Exercising of choices
Risk assessment
Motivation to use nonviolent conflict resolution
Srategies and mental and behavioral rehearsals for nonviolent conflict resolution
The curriculum is designed to be compatible with an existing school curriculum, and modules are available in formats suitable for 45-, 60-, or 80-minute class periods. The length of the implementation schedule depends on the number of curriculum modules taught per week. The parent curriculum (4 modules) emphasizes adolescents' concern with violence, provides an overview of the adolescent curriculum's key concepts, and asks parents to examine their personal beliefs and attitudes regarding violence. The curriculum also emphasizes the importance of positive parent-child interactions and offers practical strategies for reinforcing violence prevention skills (e.g., role modeling, stress and anger management). 
The intervention includes didactic instruction, demonstration, experiential exercises, case studies, games, group discussion, small group activities, role-play, performance feedback, and multimedia.
Research
Hines, P. M., Vega, W., & Jemmott, J. (2004). Final report: A culture based model for youth violence risk-reduction. Unpublished manuscript.  Fighting and bullying behaviors were measured using the 8-item Modified Aggression Scale: Students in the intervention schools reported fewer fighting and bullying behaviors. Violence-related bystander behaviors were measured using the 6-item SANKOFA Violence Scale: Students in the intervention schools reported fewer violence-related bystander behaviors. Personal victimization was measured using a 10-item scale developed by Orpinas and Kelder:  Students in the intervention schools reported fewer incidents of personal victimization.
Prevention Matrix
Secondary, Tertiary
Rating
SANKOFA is included in NREPP, SAMHSA's National Registry of Evidence Based Prevention Programs and Practices.
Measures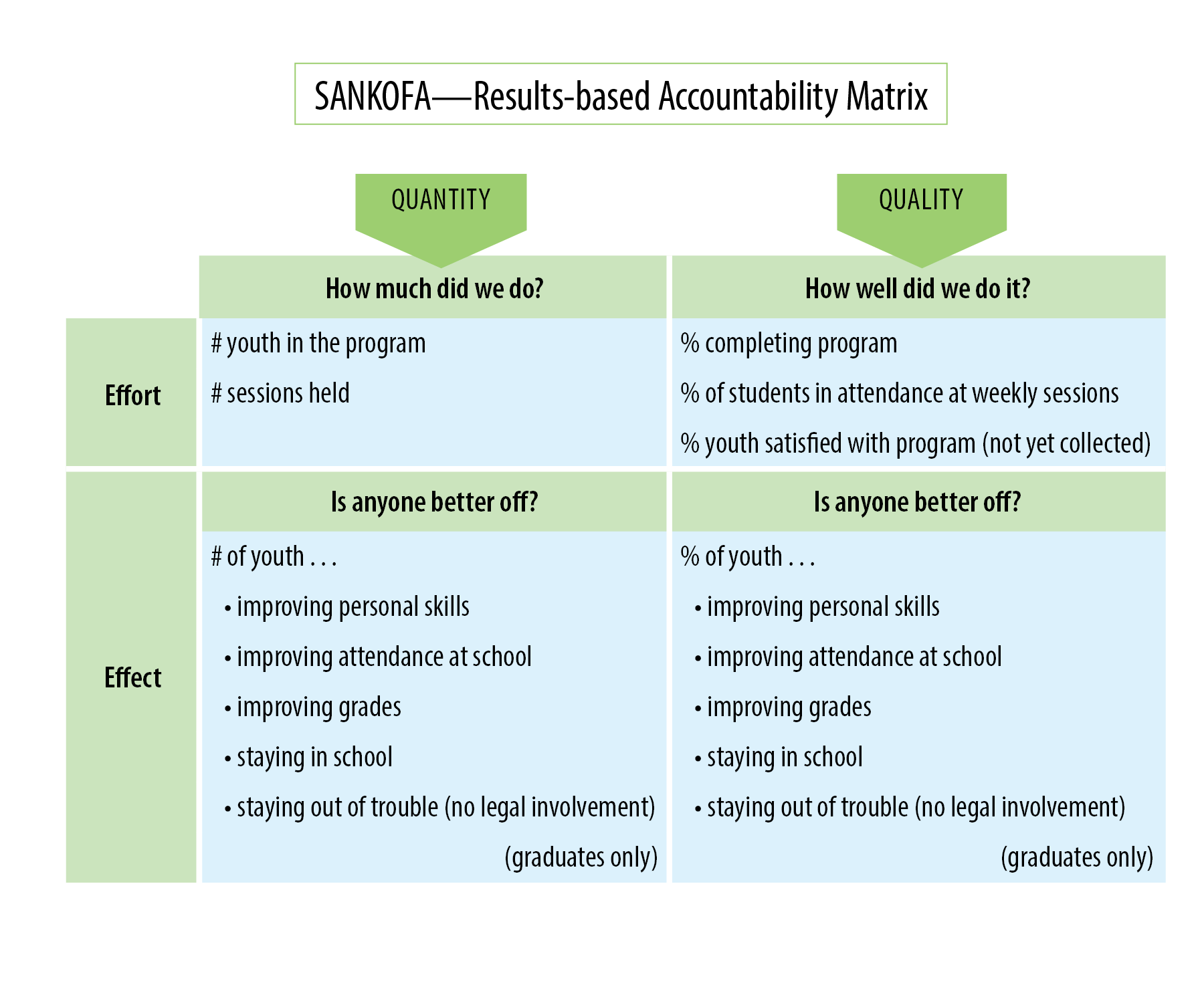 Training
Required training includes, but is not limited to, a 7-day, on-site Group Facilitator Training (5 consecutive days plus 2 follow-up days) at a cost of $750 per person (minimum of 12 participants) or $12,000 per group (maximum of 24 participants) plus travel expenses.  The cost of the SANKOFA Violence Prevention Kit (including one SANKOFA Orientation Video one DVD) is $750 per kit.
Nebraska Children Grantee Communities
Hall County Collaborative (H3C)
In Grand Island, SANKOFA is used as a prevention program and diversion program operating at four levels:
Grade school level program for prevention of gang recruitment
Middle school level program for prevention of gang recruitment
Police intervention and diversion for intervention in gang activity
Court diversion and sentencing for intervention and treatment of violence and gang activity.
The SANKOFA program in Grand Island also offers training and education for parents.