Child Well Being
At Nebraska Children, child well-being is the outcome we're working for. Within our communities, child well-being looks like:
Physical, mental, emotional health
Positive parent-child interactions
Strong and supportive relationships with caregivers and friends
Active network social institutions that support children and families
An overall community that supports these characteristics
Often though, when we're talking about child well-being, we're referring to the communities that have committed to becoming environments where child well-being characteristics can thrive among its population. Nebraska Children supports these Child Well-Being Communities with the financial and knowledge resources needed to cultivate the good life for all of Nebraska's children.
Defining a Child Well-Being Community
A Child Well-Being Community is a community-owned collaboration that seeks to optimize the prevention of Adverse Childhood Experiences by actively promoting Protective Factors within the community context, across the Community Prevention System, and through parent-child interactions. The end goal is to move the needle on the 8 Child Well-Being Indicators.
Definitions
Community-owned collaboration
Commitment by government institutions, nonprofit service providers, health care professionals, faith-based organizations, educators and – most importantly – the population being served to work together to improve the child well-being within their community. At Nebraska Children, we build community-owned collaboration using the Collective Impact process.
Adverse Childhood Experiences (ACEs)
ACEs are encounters that create a high risk to a child's physical, mental, emotional and relational health in the short term and into adulthood. Preventing ACEs for children at the highest risk can help avoid these dangerous and costly outcomes. Accoring to the Nebraska Pregnancy Risk Assessment Monitoring System (PRAMS) data for 2011, 44% of Nebraska children experience at least one ACE.
Community context
The community context is the setting in which all child well-being efforts will occur. It refers to the community norms that influence parenting, the openness of parents to seek out help, and the social acceptability of offering parenting help. In a Child Well-Being Community, optimizing this community context is a critical part of a successful strategy.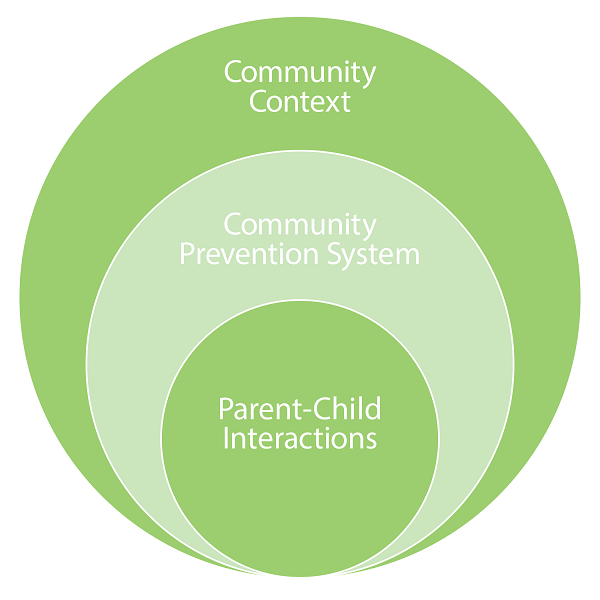 Community Prevention System
A Community Prevention System is the coordinated array of formal and informal services available within the community to address child well-being. These services may be provided through coalitions, agencies, organizations and volunteer groups.Child Well-Being Communities work with Nebraska Children to develop strategies to align the work of the Community Prevention System with the community's unique challenges, focusing on the Child Well-Being indicators that need to improve. Learn more about Community Prevention Systems now.
Parent-child interactions
This term refer to family-level dynamics. Child Well-Being Communities focus efforts on programming that teaches parents how to interact positively with their children, and that enhance the social-emotional competence of children. The most pertinent measurement of the quality of parent-child interactions is Child Well-Being indicators. Read more about strategies to improve Parent Engagement.