Matt Wittry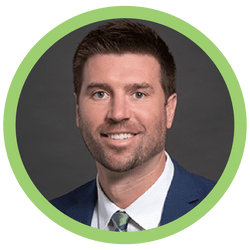 Matt Wittry is a Child and Adolescent Psychiatrist, in his 4th year of practice in Nebraska. He currently provides care to patients in several different settings. As part of Bryan Physician Network, he practices inpatient and outpatient psychiatry, and  also works on a consultative basis with NE DHHS and Northpoint Nebraska Recovery. One of his driving goals is to attempt to positively impact youth in Nebraska, either through direct care or through promoting impactful change on system, community, or state levels. Some of Matt's career highlights include establishing good working relationships with other professionals across the state, collaboratively developing several new youth programs within DHHS and at Bryan, completing the Bryan Physician Leadership Academy, and currently serving on the Bryan Physician Network Board of Trustees.
Matt was born and raised on a small family farm in Iowa (he remains a very committed Iowa State Cyclones football fan). He attended college at Buena Vista University (his unathletic, uncoordinated self wanted to try to play basketball in college). From there, Matt went to South Dakota State University for graduate school where he researched West Nile virus (trapping lots of mosquitoes). He then went to Des Moines University for medical school and subsequently completed residency/fellowship training at the University of South Dakota (Summary = in school much too long and never strayed too far from the Midwest). 
A resident of Lincoln, Matt and his wife, Kristi, have really enjoyed living in Nebraska for the last 4 years, surrounded by family and friends. They have three healthy (and mostly happy) kids who keep them on their toes. Outside of family and work, Matt's hobbies/interests include going to sporting events and music concerts, golfing, and telling some pretty terrible "Dad jokes." 
A resident of LIncoln, Matt joins the Nebraska Children board in 2022.