Karen Pinkelman, Associate VP Early Childhood/AES - Sixpence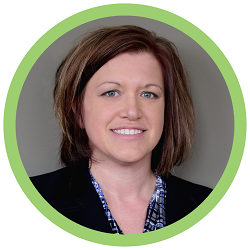 Karen is committed to enriching the lives of Nebraska's youngest children in order to provide them with a brighter future. Her role is to support Nebraska's Sixpence programs across the state with technical assistance and early childhood education guidance.Karen has been the Early Education Coordinator with York Public Schools where she had the opportunity to build their Sixpence Family Foundations Program and help York's most at-risk children and families form sturdy foundations. While at York Public Schools, Karen saw a need for expanded services and worked to be awarded both Preschool and Sixpence expansion funds. Prior to her work at York Public Schools Karen taught as a third grade teacher at Sacred Heart Elementary School in Lincoln.
Karen is graduate of University of Nebraska with a Bachelors of Science in Education. She has a master's degree from Doane College in Curriculum and Instruction, with an Endorsement in Early Childhood. She is a member of the Results Matters Task Force, the Leader of York's Early Childhood Advisory Committee, a member of the Board of Directors for the York County Health Coalition, and a committee member on the Minority Health Grant. Karen's commitment to grieving children led her to volunteer at Charlie Brown's Kids in Lincoln for 12 years. In that time she was a facilitator of children and also served two terms as President of the Board of Directors.