Karen Pinkelman, Associate VP Early Childhood/AES - Sixpence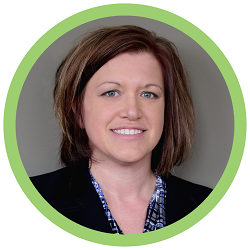 Karen is responsible for providing technical assistance, educational guidance, and fiscal oversight for Nebraska's 43 Sixpence programs. Her passion is to help create positive environments for Nebraska's highest risk children and their families. She is a Circle of Security – Parenting facilitator and provides a broad range of early childhood training. She is a member of the Results Matters Task Force and recently worked with a state team to revise and create the Nebraska Early Childhood and Coaching Competencies. 
Karen is a graduate of University of Nebraska with a Bachelor of Science in Education. She has a master's degree from Doane University in Curriculum and Instruction, with an endorsement in Early Childhood. Most recently she received a Facilitating Attuned Interactions endorsement from Chicago's Erickson Institute. 
Karen resides in Stromsburg, with her husband Chad and their four children.