Amy Bornemeier, Vice President, Early Childhood Programs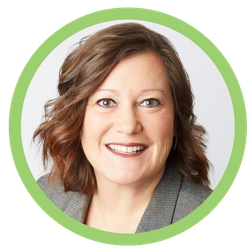 Amy Bornemeier is the Vice President for Early Childhood Programs at Nebraska Children and Families Foundation and has been with the organization since August 2013. As Sixpence Administrator, Amy has been responsible for supporting the Sixpence Early Learning Fund Board of Trustees and administering the grants to 34 communities to offer, in partnership with school districts and other local entities, programs for at-risk infants and toddlers. These Sixpence public-private partnership programs operate through three models: center-based early care and education, home based family engagement, and school-child care partnerships.
In addition, Amy is the Project Lead on Nebraska Children's Communities for Kids, a new initiative supporting communities across Nebraska in developing sustainable plans to meet the need for more available, high-quality early care and education programs.
Previously she worked at the Nebraska Department of Education, Office of Early Childhood, on a school readiness initiative and has administered early care and education and child welfare programs in Lincoln. Amy holds a Bachelor's in Human Resources and Family Sciences with an emphasis in Child Development from the University of Nebraska – Lincoln and is working toward her Master's in Management and Leadership from Doane College.