Ingrid Rodriguez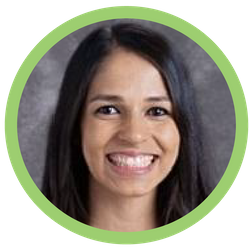 Ingrid is currently a school counselor for Schuyler Community Schools in Schuyler, Nebraska. She graduated with her bachelor's degree in Elementary Education from the University of Nebraska Kearney, then taught 5th grade for two years.
Following her short but enriching teaching experience, her passion for helping nurture the social/emotional well-being of students and families in her community continued. She obtained her master's degree in School Counseling from the University of Nebraska at Omaha and will be beginning her fifth year as a school counselor of her school district. She is a board member for the Community and Family Partnership and has assisted with central navigation of the Community Response Network in Platte/Colfax Counties.
Ingrid was born and raised in Grand Island, Nebraska by her two, loving parents who immigrated to the United States from Mexico in search of a better future. Because of their hard work and sacrifice, Ingrid has accomplished many things. Ingrid currently resides in Schuyler along with her two daughters and spouse. She enjoys spending time with her family, going for runs, and the occasional Netflix binge watching session. She hopes to be able to learn more ways she can help create a better future for others as her parents did for her.
Ingrid joined the Nebraska Children board in 2021.