Dr. Lawrence Chatters, Vice Chair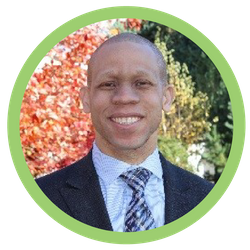 Dr. Lawrence Chatters currently serves as the Executive Associate Athletic Director for Diversity, Equity, and Inclusion at UNL, while also serving as a senior administrator advising the Director of Athletics. Before that, he was the Vice President for Student Affairs at Midland University. Chatters holds a Doctorate and Master's Degree in Counseling Psychology from The University of Nebraska-Lincoln and a Bachelor's Degree in Psychology from Midland University. Prior to Midland, Chatters participated in a post-doctoral fellowship at Penn State University. Chatters has extensive experience in work focusing on diversity, inclusion, and equity. Chatters spent three years working in the Nebraska Athletic Department as the Coordinator for Diversity and Inclusion. Chatters currently serves as the Executive Director of the Goldwin Foundation, an organization committed to providing funding for pediatric-focused research, nationally. Chatters is most proud of his wife Katie and his two daughters Airalon and Mikayla.
A resident of Omaha, Dr. Chatters joined the board in 2020.